Life insurance can't replace you, but it can help replace some or all of your income if you were to die. It can cover funeral expenses, pay off debts and help with day-to-day expenses. It can also help finance college—and ensure your spouse or partner's retirement dreams are realized.
Coverage you can count on, rates you can lock in.
Get valuable protection at group rates that can remain the same for 10¹ or 20 years.
¹Premiums for coverage over $500,000 are guaranteed to remain level for the first 10 years of coverage. Premiums for coverage up to $500,000 are not guaranteed but expected to remain level.
Specially negotiated initial premiums, high face values.
Solid insurance that can help safeguard you and your family or supplement your current insurance coverage.
Designed exclusively for maturing members 50 and over.
Age can make life insurance expensive and difficult to get. Simplified issue makes qualifying easy.
Help secure your financial future faster.
Apply for up to $500,000 in term life or 10-year level term life with no medical exam. Find out as soon as today if you're approved.
Call 1-800-621-8981 to speak with an ABE Insurance Plan Specialist.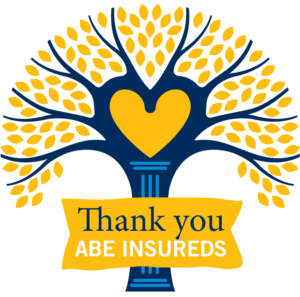 Your generosity made over $7.6 million in grants possible for 2023
Member-donated dividends2 help ABE fulfill its mission to advance the American justice system and the rule of law by funding law-related research, educational, and public service projects and programs. ABE has awarded over $325 million in grants to date. These grants are only possible thanks to donated dividends from our generous ABE insureds.
2Dividends are not guaranteed.
"A few years ago, a good friend of mine died very suddenly. He had not yet turned 40 and left behind a wife and three kids with no insurance. That's when I decided that I needed to plan to make sure that didn't happen to my family. My firm provides some life insurance, but it wasn't enough for me to feel like my family is protected, so I supplemented it with a plan from ABE."
The experience of the people described in this material may not be representative of the experiences of other members.