High quality insurance and exclusive rates for Bar Association Members1
ABE offers group insurance from New York Life,2 exclusively for Bar Association Member
The American Bar Endowment is pleased to announce that through an arrangement with Harris Bank, we now accept Online Credit Card payments.  Premium payments can be made with MasterCard, Visa, or Discover. You can also still make payments using your checking or savings account. Payments can be one time or you can register for an account so that future payments will be quicker and easier to make.
Please go to our NEW secure convenience payment site: https://secure.directbiller.com/pbills/payer/welcomeDirect.do?h=m1ezg7z3tez. The link is also available on our website: www.abendowment.org.
The 2024 ABE Opportunity Grant cycle is now open. For information, forms, and deadlines, please go to Opportunity Grants page
1The terms "Bar Association Member" and Member when used in this website mean a practicing lawyer who is a member of the American Bar Association (ABA) or any entity that is represented in the ABA's House of Delegates, including state and many local and specialty bar association. A list of all such entities is available at https://abendowment.org/resources.
2Underwritten by New York Life Insurance Company, NY, NY on policy form GMR.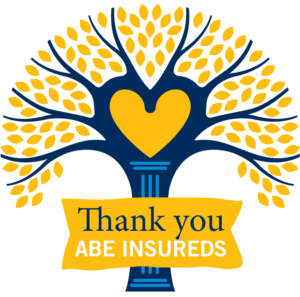 The 2024 ABE Opportunity Grant cycle is now open. For information and the application go to Opportunity Grants
"I do like that my ABE dividends help support such valuable and necessary charity work in law. But, in truth, that wouldn't be enough if it was costing me more to get the coverage I need. The fact that ABE also had such affordable rates made it a clear-cut choice for me."
The experience of the people described in this material may not be representative of the experiences of other members.
Call 1-800-621-8981 to speak with an ABE Insurance Plan Specialist.