High quality insurance and affordable rates for ABA lawyer members.
High quality insurance. Affordable rates.
ABE offers group insurance plans from New York Life,1 exclusively for ABA members.
1Underwritten by New York Life Insurance Company, NY, NY on policy form GMR.
The ABE is monitoring the rapidly changing guidance from various health officials regarding how best to respond to the COVID-19 pandemic. The Endowment takes the health and safety of our insureds and staff seriously. At this time, based on guidance provided by the U.S. Centers for Disease Control, the World Health Organization, and U.S. state and local health authorities, the ABE office is closed, but we are operating offsite and providing virtually - seamless service to our insureds. Thanks to extensive advance planning for such a contingency, most ABE staff can perform their duties for an extended period by working remotely. Staff will be working remotely unless required to be in the office for a specific task. All voicemails and emails will be responded to in a timely manner. Please be safe and be well.
For a notice for insureds in the AIG Excess Major Medical Plan, please follow the link http://www.aig.com/coronavirus for information from AIG.
Best,
Joanne Martin, Executive Director, ABE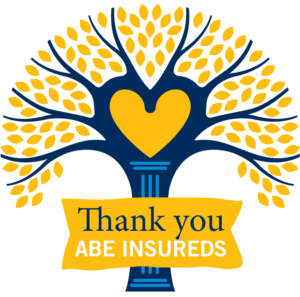 Your generosity made $6.8 million
in grants possible for 2019
Member-donated dividends2 help ABE fulfill its mission to advance the American justice system and the rule of law by funding law-related research, educational, and public service projects and programs. ABE has awarded nearly $300 million in grants to date. These grants are only possible thanks to donated dividends from our generous ABE insureds.
2Dividends are not guaranteed.
"I do like that my ABE dividends help support such valuable and necessary charity work in law. But, in truth, that wouldn't be enough if it was costing me more to get the coverage I need. The fact that ABE also had such affordable rates made it a clear-cut choice for me."
Call 1-800-621-8981 to speak with an ABE Insurance Plan Specialist.