Group Supplemental Insurance
An accident or hospitalization could result in unexpected expenses. A temporary health issue shouldn't mean the end of your practice or your family's style of life. Supplemental insurance can help pay for health care services not covered by your workplace insurance coverage.
PROFESSIONAL OVERHEAD EXPENSE
Pays rent, utilities and other expenses.
Ensure your practice can continue to operate in your absence.
ACCIDENTAL DEATH AND DISMEMBERMENT
Help safeguard yourself and your family at home, on the job, or on vacation.
Offers stand-alone or supplemental protection in case of accidents.
Covers out-of-pocket expenses or to use as you like.
Pays up to $500 per day for up to 365 days if you're confined in a hospital.
CRITICAL ILLNESS INSURANCE
Eases the financial impact of a serious illness.
Pays a single, lump-sum benefit for a heart attack, stroke, cancer or other specified critical illnesses.
Call 1-800-621-8981 to speak with an ABE Insurance Plan Specialist.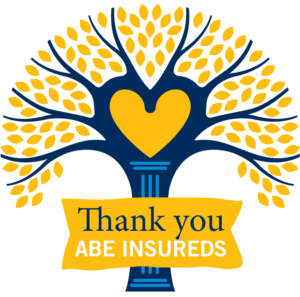 Your generosity made over $7.6 million in grants possible for 2022
Member-donated dividends1 help ABE fulfill its mission to advance the American justice system and the rule of law by funding law-related research, educational, and public service projects and programs. ABE has awarded over $325 million in grants to date. These grants are only possible thanks to donated dividends from our generous ABE insureds.
1Dividends are not guaranteed.
"I do like that my ABE dividends help support such valuable and necessary charity work in law. But, in truth, that wouldn't be enough if it was costing me more to get the coverage I need. The fact that ABE also had such affordable rates made it a clear-cut choice for me."
The experience of the people described in this material may not be representative of the experiences of other members.