ABE-Sponsored Group Insurance
Insurance designed especially for lawyers. Our insurance is customized to meet the specific needs of lawyers. Our rates are based on a long history of favorable claims experience with ABE lawyer members, which results in premiums for you. ABE-sponsored insurance is also portable,1 so you can take your coverage with you through changes in your career.
Where would your family be without you?
Life insurance is a way to help safeguard your family's dreams.
What if you were suddenly unable to work?
Help protect your paycheck and your lifestyle with disability insurance.
Will your current medical coverage be enough?
Help protect yourself in case of unexpected expenses not covered by your workplace insurance coverage.
1Portability is subject to U.S. government regulation and Group Policy terms governing termination of coverage.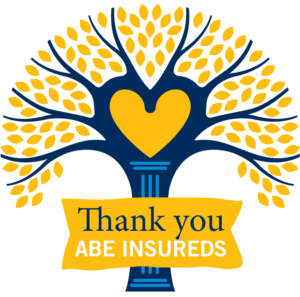 Your generosity made over $7.6 million in grants possible for 2022
Member-donated dividends2 help ABE fulfill its mission to advance the American justice system and the rule of law by funding law-related research, educational, and public service projects and programs. ABE has awarded over $325 million in grants to date. These grants are only possible thanks to donated dividends from our generous ABE insureds.
2Dividends are not guaranteed.
"I do like that my ABE dividends help support such valuable and necessary charity work in law. But, in truth, that wouldn't be enough if it was costing me more to get the coverage I need. The fact that ABE also had such affordable rates made it a clear-cut choice for me."
The experience of the people described in this material may not be representative of the experiences of other members.
Call 1-800-621-8981 to speak with an ABE Insurance Plan Specialist.